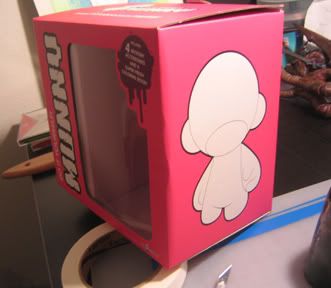 Just recieved a vinyl Munny figure for x-mas from my girlfriend this year. It's been 1 week now and it's just been sitting on my shelf...So I ran over to the hardware store to pick up some primer and clear coat. I had 2 designs that I've been looking forward to doing...so I started with the easier one that just required 1 color of paint and minimal masking.
Not only am I fan of Bruce Lee, "Game of Death" and "Kill Bill" vol. 1 & 2, but I was also inspired by the "Special Kill Bill Kubrick" (only available with the Japanese DVD set). Considering this was my first custom figure ever...I was still missing one thing..."Patience". Things were going so well, until I pieced the arms and body. The acrylic paint job went down the toilet and was smudged all over.
I was way too anxious and excited because the helmet turned out exactly how I imagined. I ended up sanding down the paint on the body and arms to put the Munny back to it's original form....at least close to.
To be continued...